VINTAGE AND SWING SHOES
Let's Dance
Beyond Time

your passion, a perfect dance with our shoes
VINTAGE AND SWING SHOES
Men's
Collection

your passion, a perfect dance with our shoes
Hello! We are the Boun'Shoes
Vintage –inspired Swing Dance Shoes
Born to mix our idea of style, beauty and comfort. We draw inspiration from our ancestors from the '20s to the '50s when the first swing and jazz was danced.
Our fathers manufacturers are from Marche Region. We are created in the heart of the Made in Italy style, which is guarantee of reliability, quality and prestige.
The passion and energy of swing dance allow us to live with you.
Dancing beyond time and space.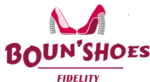 Bounce in the Fidelity Club
The new Boun'Shoes Fidelity program offers you great benefits and immediately gives you a discount on your first purchase!
Let's Dance?
Swing Events and Festivals
Discover the most beautiful swing events together with Boun'Shoes!!!
Follow us
#YourBounShoes
Share your experiences with the hashtag #yourbounshoes
The enthusiasm of those who have already tried our shoes
Clients Reviews